Where to Buy the Best Bed for Back Pain? Here Are Two Excellent Choices
Here are two different places you can go to get the best bed for back pain online.
These choices are about to save you a ton of time and misery trying to find the best mattresses in the industry for your bad back.
If you read my previous article on back pain (see below), you know research has shown mattresses that have memory foam or latex in them can dramatically help reduce back pain when you're in bed...and when you're getting out of bed.
So let's take a look at your two top choices if you want the best bed for back pain.

Top Choice #1: Saatva, Inc.
Want a fabulous bargain on a sumptuous bed?
As in, saving over $1,000 on a luxurious eco-friendly bed that is back friendly too? Saatva Inc sells luxury mattresses that are easy on your pocketbook...and your back!
These are the kinds of mattresses you'd find in the world's finest hotels. Yet they're priced at a steep discount because Saatva has mastered the art of selling mattresses only online.
In fact, Saatva won the Better Business Bureau's award for marketing excellence.
When I emailed Saatva with some questions I had, I was shocked the President and CEO of the company emailed me back promptly. Now that's customer service!
To see more about Saatva and why this CEO is so unique, see my article, Maverick Mattress CEO Answers the Question: What is the Best Mattress for You?

You'll discover some surprising news about the mattress industry when you take a look at my article. Information the mattress stores don't want you to know about.
Saatva offers 0% financing for six months.
If you're ready to see these luxury mattresses, just click here and go directly to Saatva's Build Your Mattress page. You'll discover the comfort level 81.4% of customers select.
In addition, people really enjoy the fact that Saatva offers a 180-day home trial of their mattresses.
Plus, you can get financing as low as 0% and pay for your purchase over a period of 12 to 18 months, depending on which mattress you choose.

So if you have back discomfort...and you must have a new mattress...then here are three good reasons why this may be the best bed for back pain for you.
You get to select the way you want your mattress to be.
Then you get to test it out in your home for 180 days to see if you like it.
You can pay for your purchase over time in easy monthly installments.

Nothing beats you being in control of your own mattress purchase instead of the high pressure you'd get in a mattress store.
Of course, you may be wondering whether other people who have gone through this process actually end up liking the Saatva experience.
I'll let you decide for yourself. Here's a link to Saatva reviews you will find helpful and enlightening.

Bottom line: If you buy a Saatva mattress, you are going to be very glad you did. It's just nice to know that the best bed for back pain is affordable for just about anyone who needs one.

Best bed for back pain
Choice #2: Loom & Leaf

As I've mentioned before, research shows that for many people, the best bed for back pain is a 100% pure memory foam mattress.
Loom & Leaf was created specifically for people who wanted luxury memory foam…but did not want to pay the sky-high prices that Tempur-Pedic® charges.
In fact, you end up saving thousands of dollars without any sacrifice in quality. Can't beat that!
Loom & Leaf uses plant-based memory foam that is manufactured right here in the United States. Everything about this company is American based.
If you're worried about toxins, you won't have to worry about that either. There is no off-gassing odor from these mattresses, unlike so many other memory foam mattresses.
Here's something else you'll like if you have a bad or sore back and want the best bed for back pain. Loom & Leaf will set these mattresses up for you, wherever you want in your home. That's great because memory foam is heavy.
So many memory foam companies just ship their mattresses to you in a box and toss it on your porch. Not Loom & Leaf. They set it up and take your old mattress away if that's what you want.
Plus, after you purchase, they call you so you have a direct line to a representative who will bend over backwards to help you with whatever you need. You're never left in the dark because Loom & Leaf has the best customer service in the mattress business.
And with a 120-day in home trial, no return or restocking fees, and 0% financing for 6 months, you have nothing to lose.
Simply click here to get your own luxury Loom & Leaf mattress—the best bed for back pain.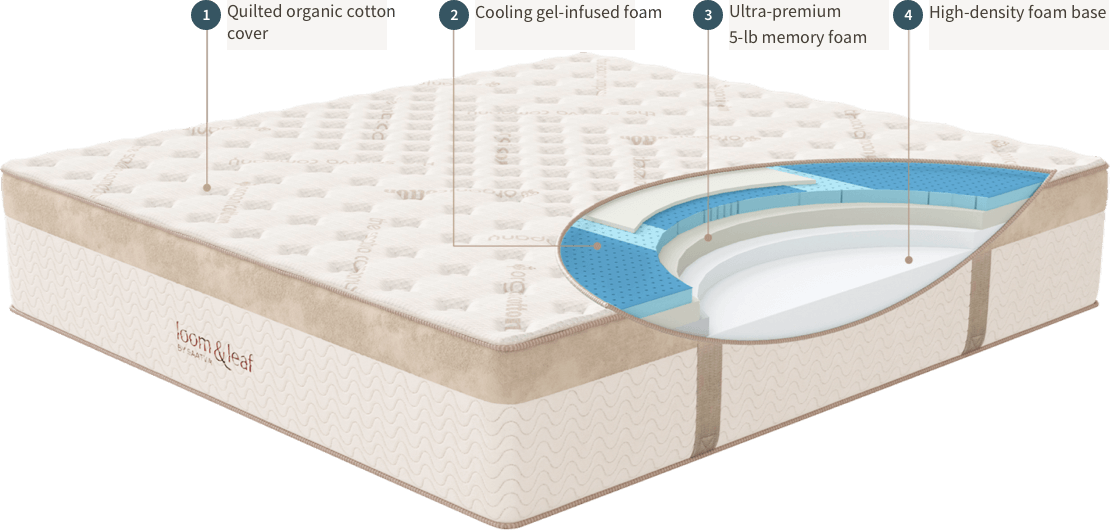 ---
The How to Buy a Mattress Checklist

---
Here are more articles you will like

Don't Even Think About Buying A Memory Foam Topper Until You Read This
Where To Buy The Best Memory Foam Topper

Best Mattress For Back Pain

Return to Sleep Passport Home Page
Popular Sleep Passport Pages