Don't Even Think About Buying a Memory Foam Topper Until You Read This

Here are the most frequent questions I have received on how to buy a memory foam topper.
Also, at the bottom of this page are fourteen more questions and comments from my visitors.
I will be adding more answers to questions in the future. For now though, I hope these here will help you make a good decision about buying a memory foam topper.
What is a memory foam topper?
All it is is a block of memory foam (known as viscoelastic foam), anywhere from two to four inches thick, and the size of your current mattress. It sits on top of the mattress you already have.
For example, if you have a queen size bed, you need a queen size topper.
To determine what thickness you should buy, here are some guidelines:
For the 2 inch memory foam topper:
It will have a medium pressure relieving effect on your body while you sleep

Therefore, in terms of comfort, it will be average


However, if you buy a high quality topper, and you have a small build, this may be all you need

As you might expect, this is the least expensive option



For the 3 inch memory foam topper:
This is the topper size most people end up buying

Comfort level is excellent if you put it on top of a firm mattress

Provides good pressure relief on your joints and back




Not as comfortable as a brand new mattress. But if it's all you can afford right now, go with this size
For the 4 inch memory foam topper:
If you are over 250 pounds, this is the size for you

It provides extra support, which also makes it ideal for camping if you sleep on the ground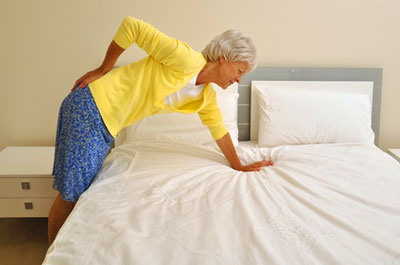 Are memory foam toppers
good for your back?
Two questions people frequently ask are:
Does a memory foam topper help with back pain?

Is memory foam bad for your back?



If you have a bad back, you have to be careful when buying a bed topper to make sure it has good support.
For support, the term you need to be aware of when shopping is memory foam density.
High quality toppers will have a density of four pounds (4lbs) or five pounds (5lbs to 5.34lbs).
If you have a bad back, your best bet is to get a bed topper that has a density of at least four. A density of five or more would be even better.
As for the second question, is memory foam bad for your back? I wrote a detailed article about this called What is the Best Mattress for Back Pain?
You can read my article by clicking the Best Mattress for Back Pain box you see on the right up above. If you have any kind of back, neck, or shoulder pain, you're going to want to read that article.

Are memory foam toppers any good?
You may read comments on websites that have memory foam mattress topper reviews about how a topper can turn any mattress into a luxury bed. This is simply nonsense. That's like saying you can put a fake fur jacket on a pig and turn it into a purebred dog.
See, in order for the topper to work, you have to have a good mattress already that the topper can sit on top of.
If your mattress is getting into that seven to ten-year-old range, a topper may not help you get a better night's sleep. You may need to be thinking about replacing the entire mattress.
Just take a good honest look at the mattress you have. If it's seven years old and still decent, you might be able to keep that mattress going for a few more years if you put a topper on it.
However, if your mattress is already worn out, and sagging in the middle, the foam topper will sag too. It's a waste of money because the topper will conform to the underlying foundation.
What situations do memory foam
toppers work best for?
It's probably safe to say you're looking into a topper because you want memory foam... and you also want to save money.
Perhaps you just can't pony up the substantial money (often up into the thousands) needed to buy a memory foam mattress.
Fair enough. Just keep in mind that along with what I said above about back pain, a topper is best for the following:
You have a good bed already, but it's too firm and you want to soften it up with a topper.


You have a hideaway sofa bed with those awful bars that crack your back. Slapping a good foam topper on top is a good way to go.



You need an extra bed you can simply throw on the floor for guests. As long as the guests are young...perhaps grand kids or friends of your own children...a good topper works great.

(For us middle age and older folks, it's tough to get up off that ground!)


It could be used to make a camper or RV more cozy for sleeping. Toppers are great for camping.


Get one to dress up a dorm room mattress with memory foam comfort.



You can take it with you on the road when traveling and put it on top of the hotel or motel mattress.
How long do memory foam toppers last?
If you buy a cheap memory foam mattress topper, you'll be lucky to get a couple years out of it. Poor quality memory foam will quickly lose its support. In fact, you might find the foam is not expanding and remains indented.
On the other hand, top quality mattress toppers may last up to about ten years if you take good care of them, although ten years is a stretch. It all depends on how often the topper is used. If you get five years out of your topper and use it all the time, consider it a good investment.

Also keep this in mind: a foam topper with a density of at least four pounds will usually last longer. However, they are slightly more expensive.
My recommended memory
foam topper company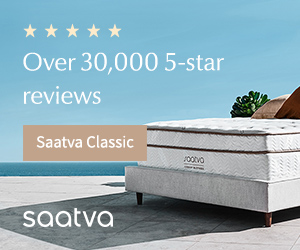 For over 11 years, Saatva has been a leader in online mattress buying.
There are so many topper options to choose from these days. Thirteen years ago, when I first started reviewing toppers, selections were limited.
Since then, online shopping for bedding has exploded. A company called Saatva was at the head of the pack pushing the new way of buying mattresses online.
I 'm a big fan of Saatva and have written about them for twelve years.
Why?
They have great products. They have great customer service. They have a great return policy.
That's why Saatva is my number one recommended memory foam mattress topper.
Their foam topper is only 1.5 inches which you wouldn't think would add enough support. And it goes contrary to what I said about various inch thicknesses of toppers.
The trick is, this topper is high-density. And it is firm.
The foam hugs the body and distributes body weight evenly without that sunk feeling you get with cheap toppers.
And of course, it is CertiPUR-US certified. This certification is essential for making sure you are sleeping on healthy foam and not a soup of chemicals.
Click here or click the image below to see the Saatva toppers.
---
What Other Visitors Have Said
Click below to see contributions from other visitors to this page...

---
Here are more articles you might be interested in

Where To Buy The Best Bed For Back Pain

Natural Sleep Aids

Over the Counter Sleep Aids: 29 Nasty, Dangerous Side Effects

Popular Sleep Passport Pages