6 Good Weight Loss Foods
When it comes to weight loss foods, any way you slice and dice it, we're talking about healthy foods...even superfoods.
And in my article, 12 Healthy Weight Loss Tips, I spoke about weight loss smoothies. One of the things I add to my smoothies...and you should too...is blueberries.
1. Blueberries are truly a superfood. Some of my favorite childhood memories are picking wild blueberries in Northern Michigan with my parents, brothers, and sister.
Blueberries have the highest antioxidant content of any fruit. This is important because antioxidants fight stress-related damage to your cells caused by free radicals.
Stress, weight gain, and insomnia go together like the Three Stooges (except they're not funny like the Stooges were!). So start protecting your body today with this superfood.

Blackberries, raspberries, and strawberries are also excellent weight loss foods, and excellent for weight loss smoothies. Berries provide high nutrition and because they're sweet, they can curb a sweet tooth without too many calories. In fact, berries are about 70 calories per cup.
2. Boost your energy by taking the world's purest bee pollen.
Safely tucked away on the South Island of New Zealand is some of the cleanest air on Earth. Because of the purity of this area of the world, the bee pollen that comes from there has a triple effect on your body. It:
Increases metabolism and helps with fat loss


Suppresses appetite


Boosts vitality, increases energy levels, and gives you greater staying power throughout the day...without the need for caffeine and energy drinks.
Click here to discover the weight loss and health benefits of the world's purest bee pollen. (Clicking opens a new window.)
3. Oats are awesome. I often eat oatmeal for breakfast instead of smoothies and it sticks to me for hours. No hunger. Add 1/4 cup frozen or fresh blueberries and you've just fed your body two powerhouse weight loss foods. Make sure the oats are 100% rolled oats or steel-cut oats because they have the highest fiber content.
4. Preload with grapefruit. I spoke about preloading in my 11 Healthy Weight Loss Tips article. Two of the best diet foods are grapefruit and grapefruit juice because they are approximately 91% water. A recent study showed that preloading with the weight loss foods grapefruit or grapefruit juice was very effective for weight loss.
Previous research on grapefruit has also shown that people who ate half of a fresh grapefruit before meals had weight loss of 4 pounds in 12 weeks without changing anything else in their diets.
Here's another thing to keep in mind about fruits. Research published in Obesity Reviews examined 16 different studies and found that daily consumption of fruit was associated with reduced body weight. Maybe an apple a day does keep the doctor away.
5. Cinnamon is one of the good weight loss foods because it appears to effect areas in the brain associated with feeling full. Add 1/2 teaspoon of cinnamon to your weight loss smoothies for flavor. Or sprinkle it in your oatmeal or morning cereal.
Is eating cinnamon a magic bullet that leads to huge weight loss? No. However, it's all of the various things you do together over a period of time that make the difference. A pinch here, a pinch there. You can only climb a mountain one step at a time.
6. Go nuts. Raw almonds and walnuts are excellent weight loss foods. They have fiber, omega 3s, and they help lower cholesterol, which may be effective for risk protection against heart disease. If you don't like them raw, at least get them roasted with no salt.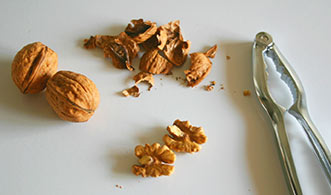 It took me awhile to get used to raw nuts with no salt but now I enjoy them that way. A review of the literature shows that "Long-term nut consumption is linked with lower body weight and lower risk of obesity and weight gain." Snack on 1/4 cup of nuts with an apple instead of a candy bar. Or have a couple squares of dark chocolate with a small handful of walnuts. It tastes good!

Weight loss is such a tough issue
I wish there were easy solutions. Most people want their weight loss to be fast, easy, and not involve exercise. Sorry. It's not going to happen.
However, maybe I can leave you on an inspiring note. I have a dear friend who lost 40 pounds while watching television.
How did she do it?
First, she bought a decent treadmill for about $400. Next, she taped her favorite television shows and then day after day for weeks and weeks she walked on that treadmill for an hour while watching those shows.
You know what else she did? She ate almost all of these weight loss foods I have just given you. In other words, she changed the foods she ate.
And here's something really interesting to take a look at...
Double your fat loss results
There's a unique way to lose weight you may never have even considered ...or heard of for that matter.
Matt Hoover, winner of NBC's The Biggest Loser, was certainly skeptical about this when he heard about it.
After losing 35 pounds and counting, he's not skeptical about this anymore.
So click here for a weird way to increase weight loss results by 146%. (Link opens a new window.)
---
References:
Nutrition and Metabolism 2011, 8:8. Effects of grapefruit, grapefruit juice and water preloads on energy balance, weight loss, body composition, and cardiometabolic risk in free-living obese adults. Research conducted by Silver, et al.


Obesity Reviews 2009 Nov;10(6):639-47. Epub 2009 Apr 1. The potential association between fruit and body weight—a review.


Am J Clin Nutr 2009;89(suppl):1643S–8S. Nuts and health outcomes: new epidemiologic evidence. Joan Sabate´ and Yen Ang.
---
Here are more articles you will find helpful.
23 Dangerous or Unhealthy Sleep Apnea Symptoms

What Causes Snoring?

Return From 6 Good Weight Loss Foods to Sleep Disorders Home Page
Popular Sleep Passport Pages